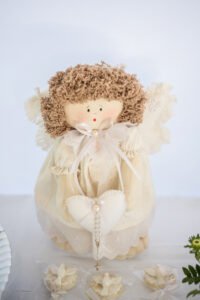 Congratulations on your gorgeous baby's birth.
Planning a Christening ceremony, while thrilling and a wonderful occasion, can be a difficult task, especially in the midst of the pandemic.
We assist you through the process by keeping your family safe and sound in these difficult times when celebrations are only done out of necessity. In addition, we offer assistance and supervision of an online live broadcasting of your baby's christening, which complies with Covid19 requirements and allows all of your loved ones to attend your celebration.
Allow us to save you time and stress by aiding you with the planning of all aspects of your celebration, allowing you and your family to fully enjoy your baby's once-in-a-lifetime event.
We are seasoned event planners who specialize in coordinating christenings ranging from traditional to creative and front-of-house. To design your gorgeous baby's christening virtual event, we'll incorporate all of your ideas and wishes.
In general, booking a virtual christening event
Make a reservation with the church.
Aid in the selecting of hymns.
Propose the names of priests who are available in your area and make the necessary arrangements.
Assist with the ordering of flowers and decorations for the church and your residence.
Assist with accessories and apparel.
Make virtual invitations and distribute them.
For online broadcasting, hire a videographer and a backup crew.
Propose catering, decoration, and disinfection services for your home.
Accessorize your outfits
We can help you find the perfect baptismal candle, shawl, blanket, christening robe, and booties. We can refer you to a stylist and set up a virtual meeting for you. We can help you find accessories and clothing for your entire family.
Invitations from afar
Our event planners have prepared virtual baptism invitation cards/banners. It's possible to propose, source, and confirm invitation styling recommendations. Invitations can also be written, designed, and sent with the help of a graphic designer who has been suggested.
Live Broadcasting/Videographer
Find a list of great videographers to film your baby's baptism and engage a team of pros to oversee the broadcasting process so you can spend this special time with your loved ones without having to worry about debugging or connectivity issues.
Catering
Guidance for home christening festivities
We can help you with catering and menu planning for a variety of dietary requirements.
We may either have caterers deliver the food and beverages to your home or arrange for collection from your preferred food source.
Sterilizing
We also advocate hiring cleaning professionals to disinfect your home for the family before and after the close circle party.
Decorating
We can recommend and arrange for flower delivery and online musicians to help you create the perfect ambience for celebrating such a special occasion from the comfort of your own home. Unique decor ideas can be proposed, sourced according to your preferences, and delivered to your location.
We'd love to hear from you by phone or email if you have any general inquiries.
CHECK OUT OUR AMAZING DEALS